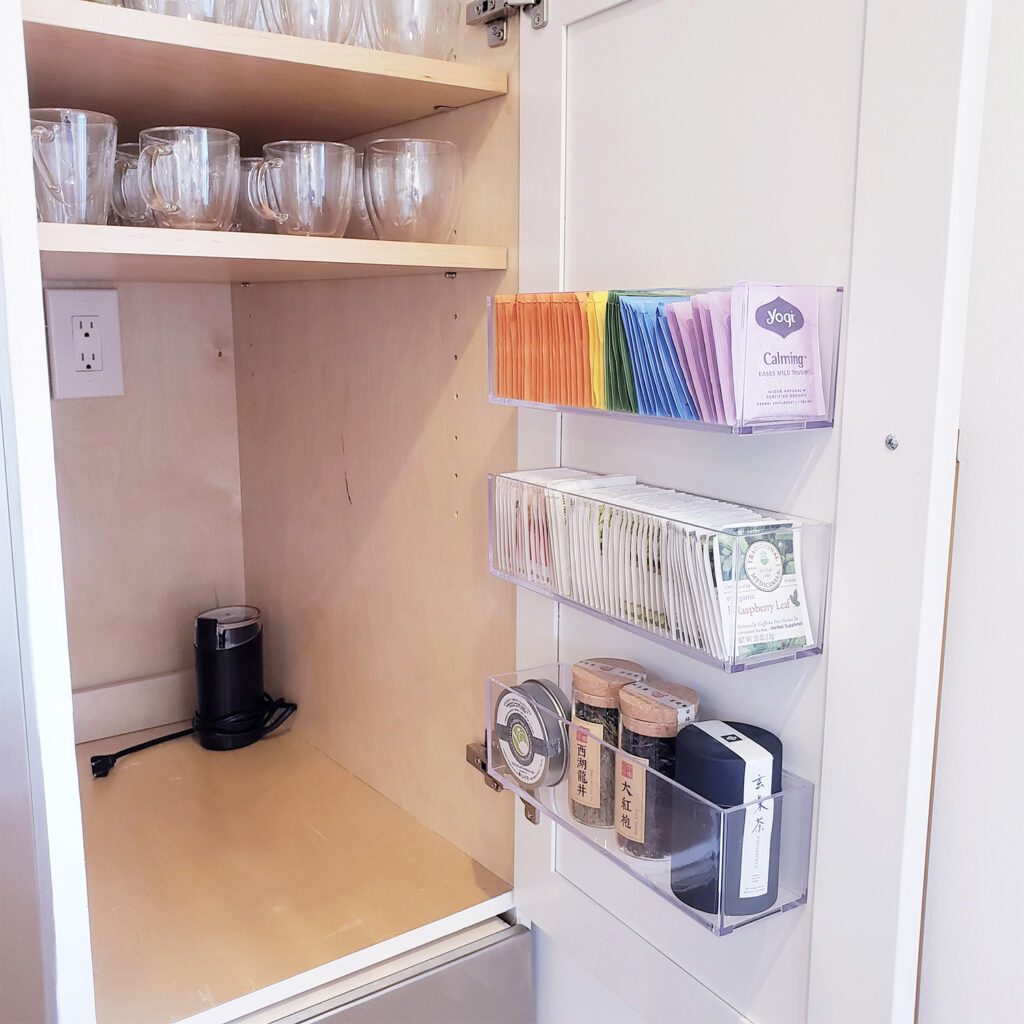 11 Jan

Spilling the Tea on Tea Organization

Did you know January is National Tea Month? Over here at Organized by Ellis, we take our tea organization very seriously. Considering all of us have quite the tea collection at home (and our office!), we know a thing or two about tea organization.   

If you're anything like us, your tea drawer or cabinet is one of the most used spaces in the kitchen.  You likely have a pretty decent stash thrown about in your pantry, cupboard or kitchen drawer. But if you don't pay attention to it, that tea collection can quickly take over your space and turn into a hot mess.

First things first, take inventory of the tea you have. Tea can stay good for a long time. However, tea powders, like matcha, can go bad sooner than you'd think. Pull out all the tea you have, and toss all expired tea!  As for the tea you don't drink (and have been saving for those guests who never actually come over), give it to someone who will drink it. Trust us, this initial step will make your life so much easier when beginning the organizing process. Get rid of the excess!

Next, decide where you want your tea collection to live. Did you know that there's actually a proper way to store tea?  To prevent it from spoiling, it's important to store it in a drawer or tucked away in a cabinet. When exposed to sunlight, moisture, or heat, it can damage the tea.  If you have loose leaf tea on hand, this is especially important! There are a few common spaces to keep your tea, like a drawer, cabinet, or in your pantry. This decision depends on the available space you have in your kitchen.  If you are short on space and don't have a whole drawer or cabinet to spare, keep reading! We have a few other options for you. 

Now that you have your space picked out, it's time to utilize the best organizing products to maximize the space! If you are using a drawer, we'd recommend using drawer dividers, drawer inserts, or a combination of them both. First, take your tea bags out of their cardboard boxes, and place them in the columns you've made with the dividers. Simply space out the drawer dividers to fit the width of your tea! Some of our favorite drawer dividers are the Container Store Bamboo Drawer Dividers, the White Bamboo Drawer Divider, and the Royal Craftwood Bamboo Drawer Dividers.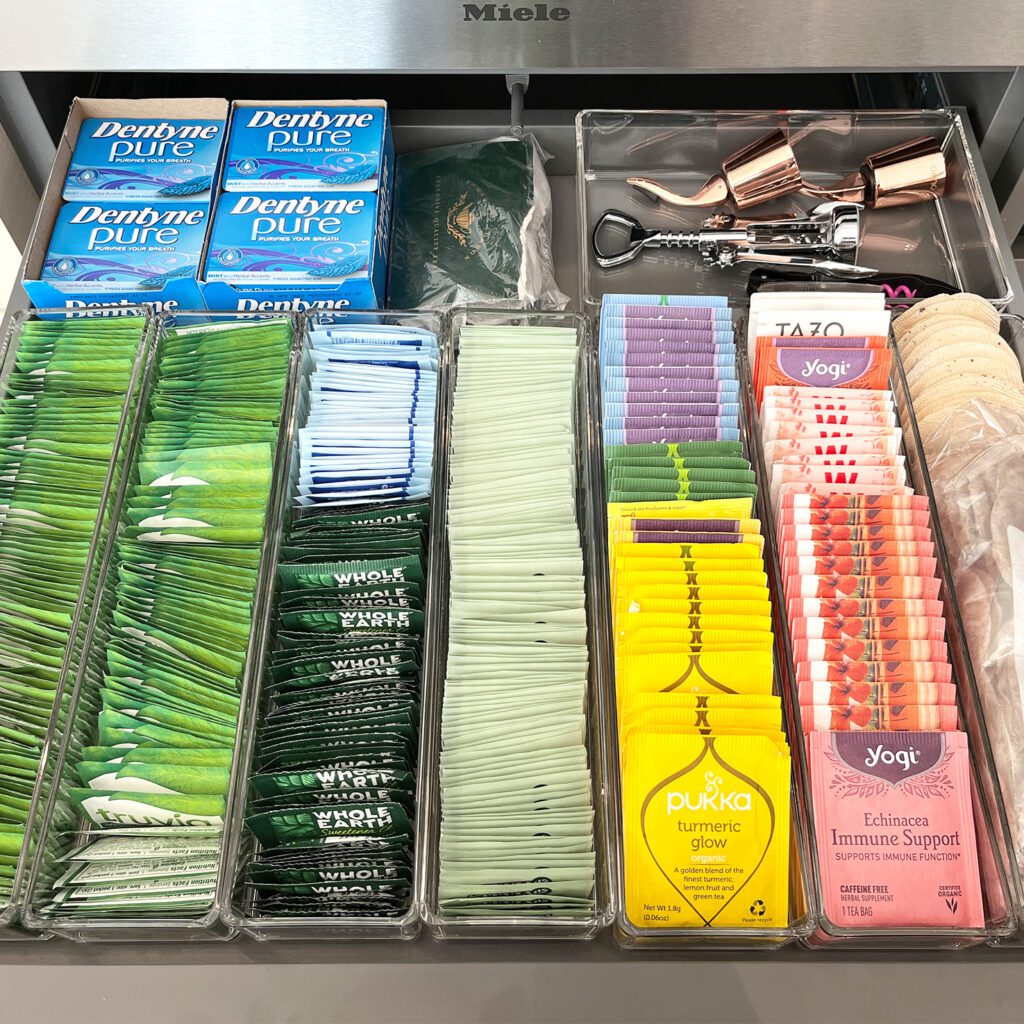 Now that we've covered how to build a beautiful and functional tea drawer, let's move onto the other common areas to store your tea. If you plan to store your tea collection in a cabinet, there are a few products we know you'll love! We recommend using a tea organizer that has compartments for all of your tea categories. We especially love the Linus Tea Storage Box from the Container Store. When it comes time to make your cup of tea, you can easily grab the entire box from off the shelf!
Finally, if you are struggling to find an open drawer or shelf in your kitchen, we have a tip for you! Try using an adhesive organizer to store your tea packets. This solution works for smaller and larger tea collections – simply add as many organizers as you need. Try the iDesign Affixx Plastic Wall Mount Organizer – they work on metal, mirrors, glass, tile, fiberglass, and wood surfaces. We love space savings organizational hacks!
Feeling inspired? Keep the ball rolling! If you are looking for other small spaces to organize in your home, checkout our latest blog, Start Small When Organizing Your Home. Follow along as we highlight 9 different small changes you can make in your home for a huge impact as we enter the new year!