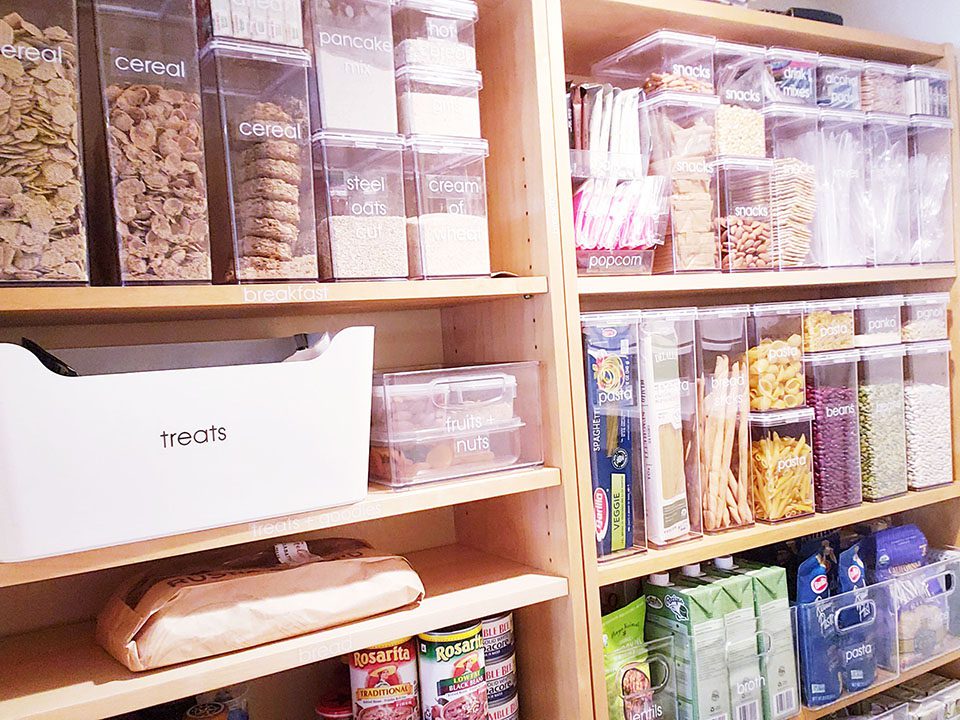 06 Jul

Perfecting Your Pantry

Like everyone, we've had some big lifestyle changes these past few months, in all areas of our lives. For us, our cooking and eating habits have changed dramatically.  After 6 weeks, we realized we need to make more permanent changes to keep up with the current times – with the help of the fantastic new line of The Home Edit products! I'm going to fangirl out here!! I LOVE these products!! Especially for creating the pantry of your dreams. Seriously, LOVE them!

I created this post about how to organize your desktop in collaboration with The Container Store, but all thoughts and opinions expressed are my own.
Times Have Changed
[/vc_column_text]
It turns out, we were eating out more than we thought. Pre-pandemic, we were super busy with work and clients, so for convenience (and date nights of course) my husband and I would go out to eat a fair amount. All that to say, we didn't keep much food in the pantry. Cut to March, April, May now June, and things have changed.
When the stay at home order began, it was clear we needed to stock up on the basics and get a little backstock going too.
Since our pantry wasn't set up for so much food, it got messy, very quickly. No problem! What a perfect opportunity for me to take on an organizing project!!
Pre-pandemic, we didn't store many packaged foods, dinner ingredients, or long-lasting non-perishables. Now, we need all three! Add in baking ingredients and you've got yourself a lot of clutter.
You know the routine. The steps are always the same. First…
[/vc_column][/vc_row]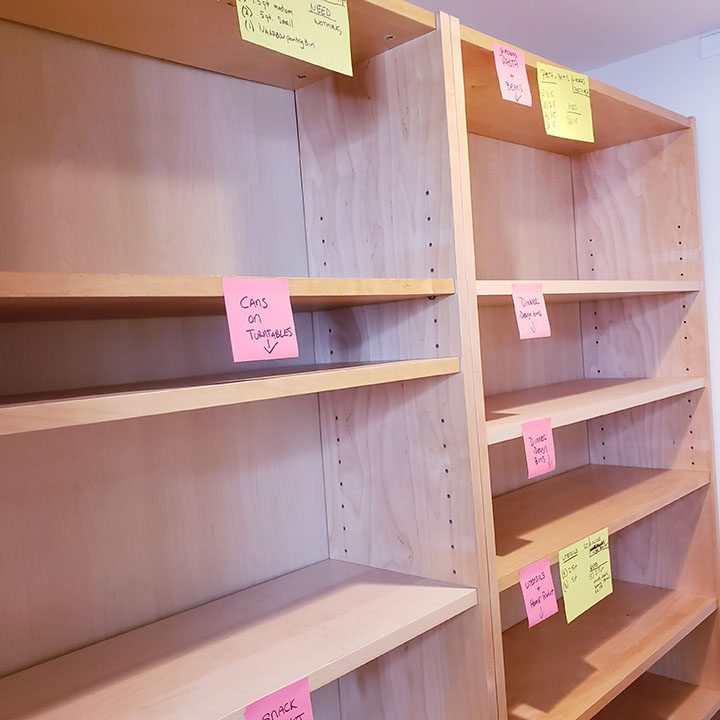 As always, the first step is to take everything out. Use counters, tables, or a folding table to lay it out. Once the space is empty, wipe down the shelves.
PRO TIP: Plan product/item location using Post-It Notes! Make sure you mark space for every category that's going back in the pantry.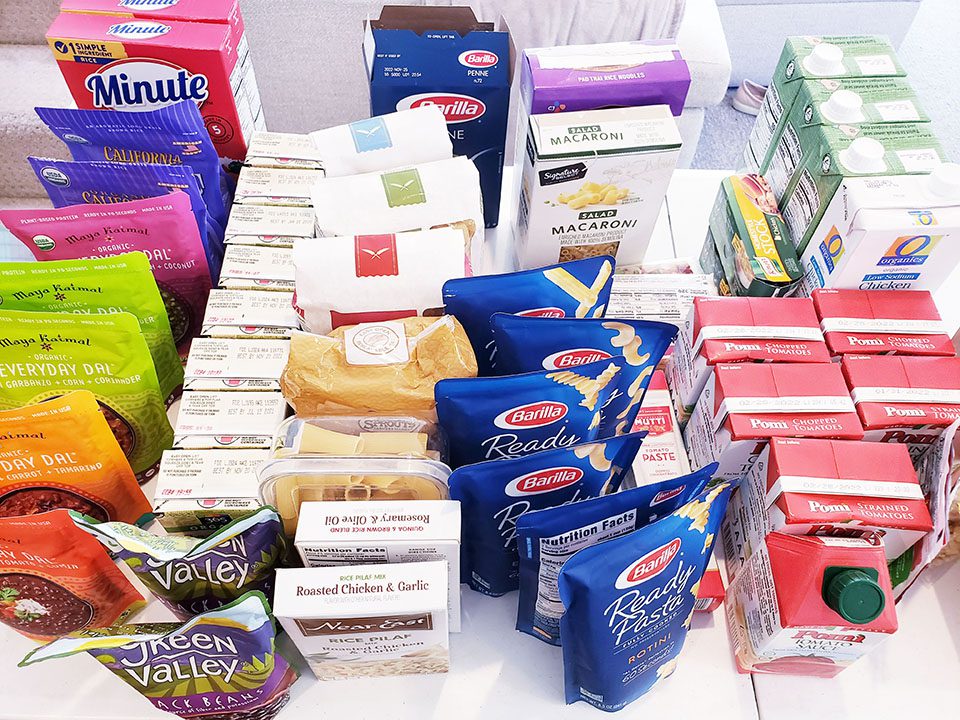 As you are sorting, group "like with like" as you move things from your pantry to the table or counter.
If you have expired food, this would be the time to check dates and toss. We didn't have expired items, but we did have some snacks and ingredients that we "auditioning" that didn't make the "keep" cut. Those are things we tried out or bought for one-time recipes and that would not be touched again.
What we did toss were household items that we didn't need anymore. Like old rubber bands, extra cooking utensils, and double baking tins. We removed anything that wasn't absolutely necessary to our current life.
With our sorted pantry contents and new "stay at home cooking" focus, I got to work planning. I knew I was going to use The Home Edit's new line. So it was easy to plan. I measured the shelves, and placed Post-Its on the containers for each item. My pantry shelves are mostly adjustable, so I was able to adjust them to fit these fabulous new containers.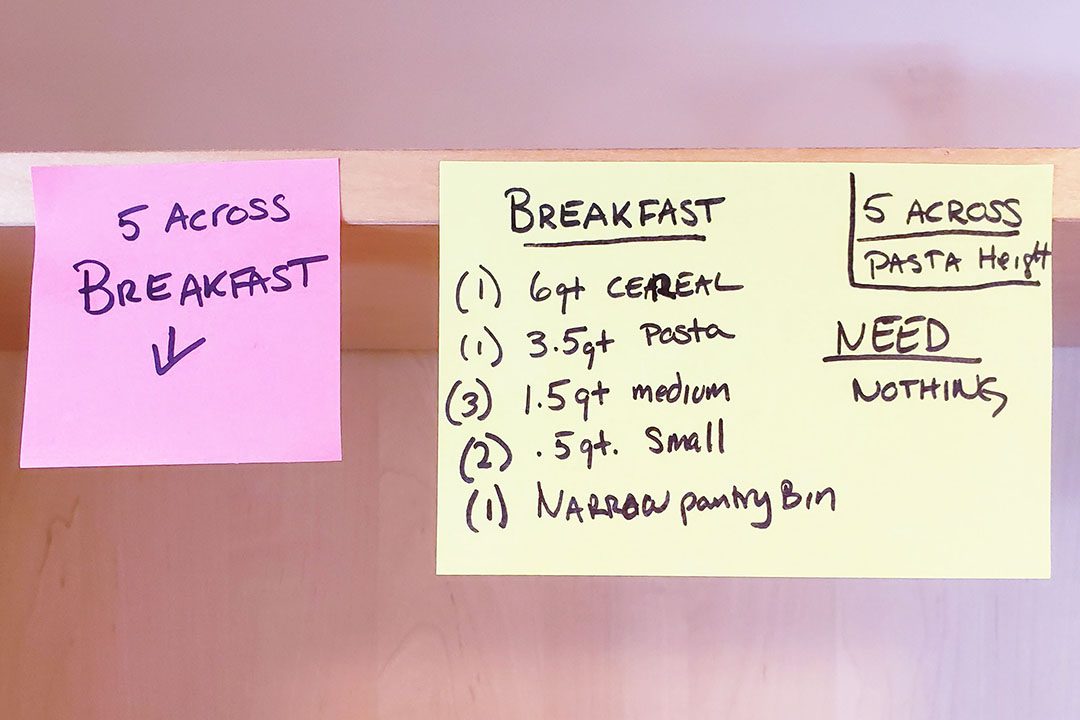 I write everything down and place a Post-It where the items will go. I highly recommend this approach. It will save your brain!
Gotta geek out here…can I just tell you how excited I am about this new line from The Home Edit?! Not just because they're pretty – which they are – but because they're modular and slim, yet hold a good amount and are easy to use. You can mix and match sizes, and they'll still fit into a perfect array on your shelf.
I got to work decanting (with Post-It Notes to help, of course). Are you seeing a pattern here?
PRO TIP: First in, first out is our rule when decanting. If there's still some food in the container, momentarily pour the contents into a cup or bowl, decant the new food, and put the food from them cup on top. That way you'll be using the first food first.
When you do this for yourself, be sure to keep in mind what you use most often and what needs to be most accessible. For example, my snacks and treats are right near the door, ready to be grabbed! 😉 And the cereal too (in this incredible Cereal Canister from The Home Edit), for easy access in the mornings!
Okay, back to how incredible these Home Edit bins are. Practically the entirety of my pantry is now made up of their new canisters.
Why we're such fans:
They're stackable and
Easy to use! They all close with an airtight seal, but it's easy to take off and put back on. This is great because I have a few clients who have challenges using their hands so I'm always on the lookout for products they can easily use.
The lids are clear. If you use a drawer for your pantry, you can drop them in the drawer and see the contents from the top!
They're low-profile, meaning they don't take up unnecessary space. This is a Pro Organizer thing but we like containers that are efficient with space. The lid doesn't hang over too far and slant of the container doesn't take up too much room. Low profile containers can snuggle right up next to each other, without wasting space!
They're deceptively large – For example: the medium canister fits an entire container of oats. Doesn't look like it, huh? But it does! Fabulous!
They are pretty as heck. Like really, really purdy!
My hubby loves them (and he doesn't ever comment on containers.)
Packaged Non-Perishable Perfection
I have to mention the Home Edit Narrow Pantry Bins, too because they perfectly contain mixes, broths, and just about every type of dinner ingredient. I don't know how The Home Edit did it, but their pantry bins are measured perfection! This sparks my joy for sure!
I also used the Home Edit's classic All-Purpose Bins for the little bit of non-food storage I have in my pantry – namely cleaning and house care!
The cutout handles are ideal for quickly sliding them off the shelf to grab something. I recommend file folding cleaning cloths in a bin like this for a more aesthetic appeal! Plus, the Home Edit just released these new clear label holders… and look at how perfectly they match the appeal of the clear bins. I love them.
And finally, speaking of quick access, I have to mention these iDesign bins, which are perfect for individually packaged items. The open front means you can grab a snack without having to take any bins off the shelf at all. My movie nights have never been easier!
Pamper Yourself with Labels!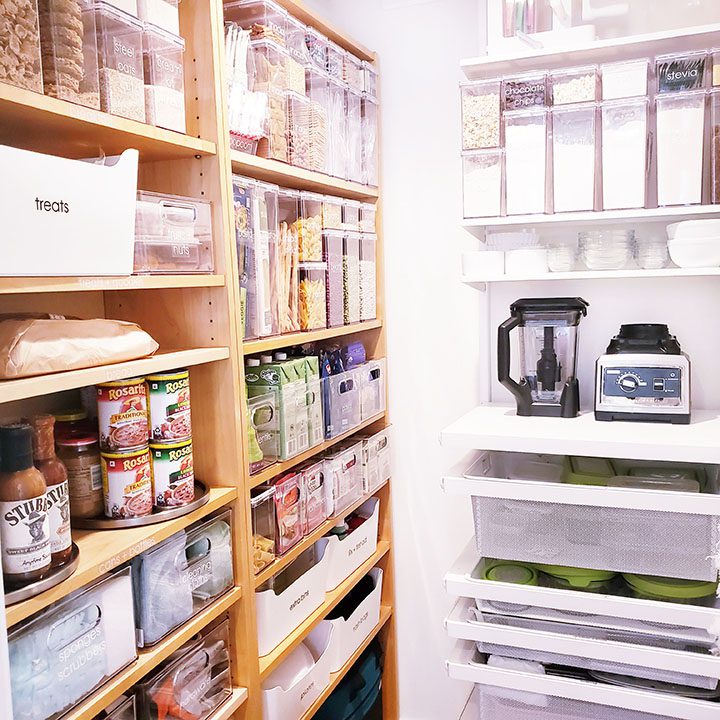 For a finishing touch, I went to town labelling. I'm sure by now you know how much I love labelling. Labels make it easy to find exactly what you're looking for, but most importantly OTHER people can put things away. Feel me on this one?
Possibly Permanent Change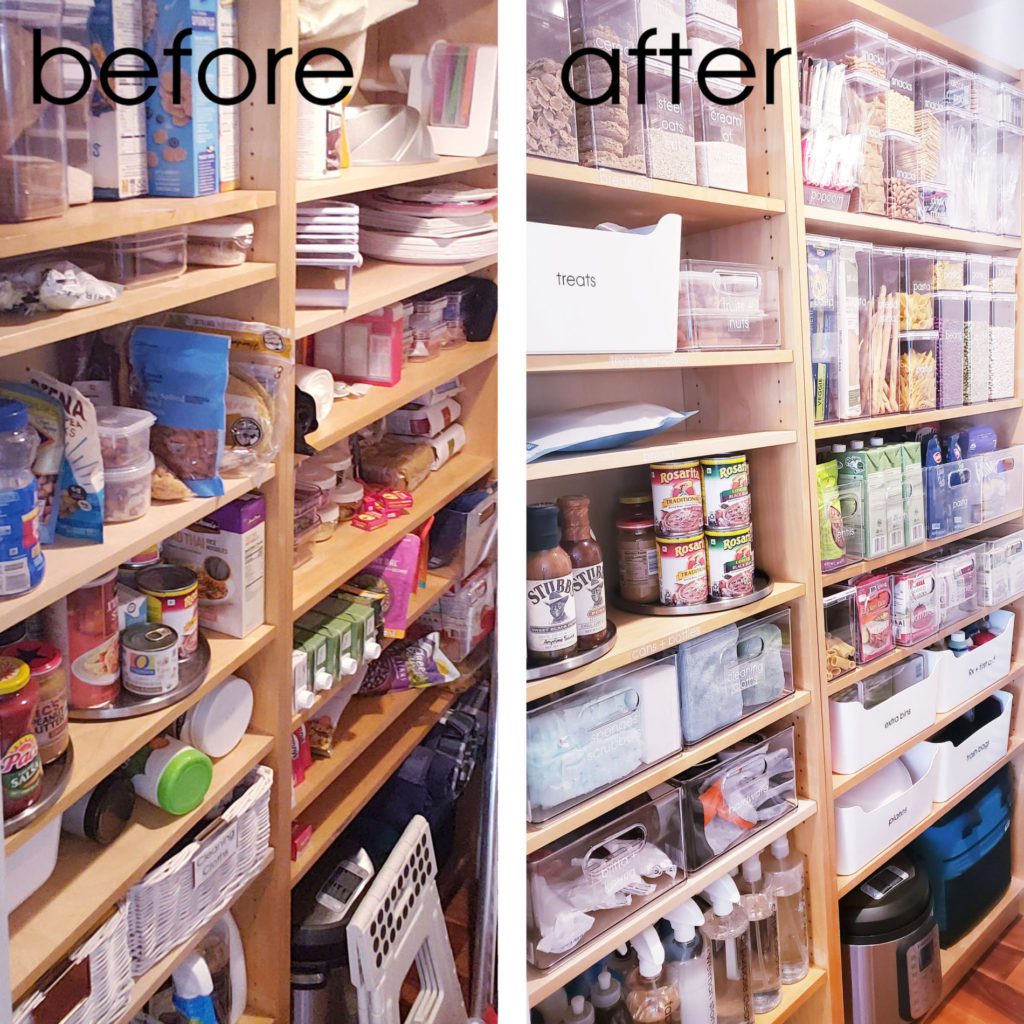 Organized spaces feel good. They help us gain some control of our living space and home life. Which, during these times, makes a huge difference. A clear space gives you a clear mind.
My new pantry makes me happy because I'm prepared for our new lifestyle. Shopping, cooking and snacking are so much easier. (Plus, it doesn't hurt that it looks great!)
Things have changed rapidly and quickly, and we're all in this together! We've been helping our clients with accountability. Contact us to learn how we can help you make room for the good stuff in life. Or for organizing eye candy follow us on Insta!
We're here to support you as you achieve the organized life you desire.