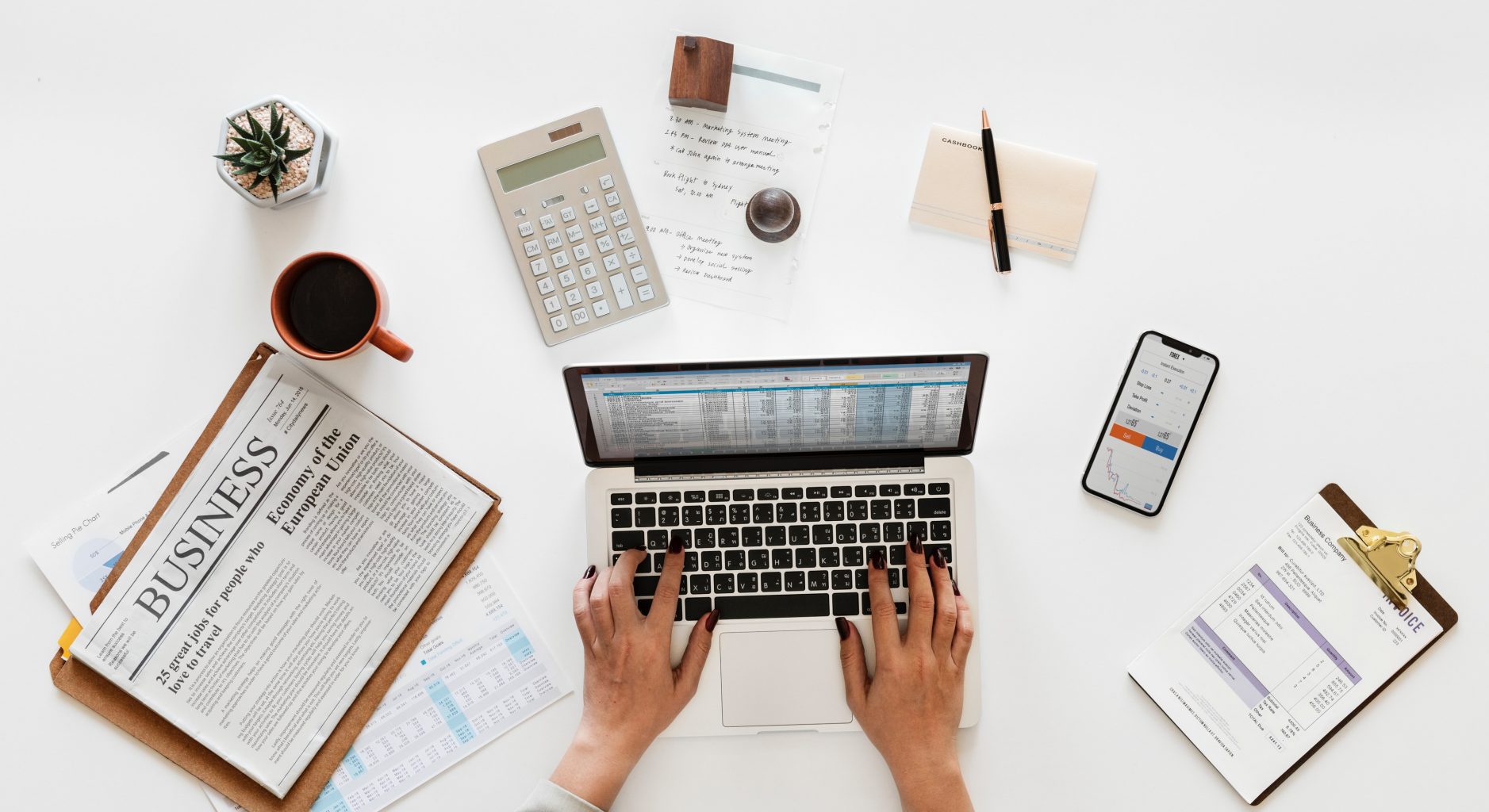 13 Mar

Stop Stressing, Get Organized, and Start Filing your Taxes
Paying taxes can be painful, but with a little organization, filing them doesn't have to be!
Tax season. (Involuntary shudder and sigh.) Unfortunately wishing it away, or worse, procrastinating until April 15, will only increase your stress—not increase your tax return.
We're here to help you painlessly finish your taxes ASAP. No, we aren't CPAs, but a little organization goes a long way, even with taxes.
At Organized by Ellis, we believe in grabbing the bull by the horns and tackling stressors head-on, even if they are a mountain of scary financial paperwork. For tax filing, this means starting with the right tax prep and creating a system to make this tax season a breeze. You can do it today! So listen up: this year, we've got your steps to a stressless tax return.
Follow these tips and you'll create an effective organizational system that not only helps this year, but, even more importantly, makes future years easy-peasy.
1. Prep – get the wheels moving!
As with all projects, starting early and being prepared makes the entire process easier. Being that it's March, this may not feel possible. But if you start today, we promise things will fall into place. Here's how to start:
Pick the big day –

Choose a date and time and commit to your decision. Write it in your calendar, set an alarm on your phone, and call and tell your mom. Procrastination is over; this is the big day!
Schedule your appointment –

Choose your professional and call and make an appointment. If using software, choose the website you like and make an account.
Check changes in tax law –

New legislation may change how you do taxes this year. Do a little research to avoid surprises and maximize your return. Here's the

changes identified by the IRS

for the 2018 tax year.
2. Gather and file papers
Time to organize what you have—and realize what you are missing. Gathering all the paperwork can be the most time consuming part of the whole tax experience and, unfortunately, it's unavoidable. Here's what to do:
Grab last year's docs –

Find last year's return, bank account numbers, and documents. You'll likely need them.
Dig for this year's docs –

Taxes mean so much paper!

If you don't have an organizational system in place for paperwork, finding all important documents will likely leave you with a little more grey. It is time to dig. Gather all of your W-2s, 1099s, bank interest forms, health insurance forms, social security information, and more that have slowly trickled into your mailbox (or inbox!) over the past few months. Include everything you even suspect might be useful when filing your taxes.
Create a folder for all your tax forms –

You've just found all of your papers, now grab a file folder and stick everything in it before it disappears! Remember; clutter is stress. Take the whole folder with you when you visit your tax professional.
3. Organize itemized expenses
Planning on itemizing this year? We suggest you double check the current tax laws to make sure that itemizing is the best option for you. If it is, organization is crucial for your more complicated tax filing. Here are extra tips for itemizing:
Use an accordion file –

If you itemize expenses, use an accordion file with each category labeled. Keep it accessible! Every time you bring home a receipt, just drop it in this folder (in the correctly labeled tab of course). If you have a digital receipt, print it out and put it in the folder—we promise this is worth your time! A little effort early on will save you from tearing apart your house and inbox in April—again—trying to find misplaced receipts.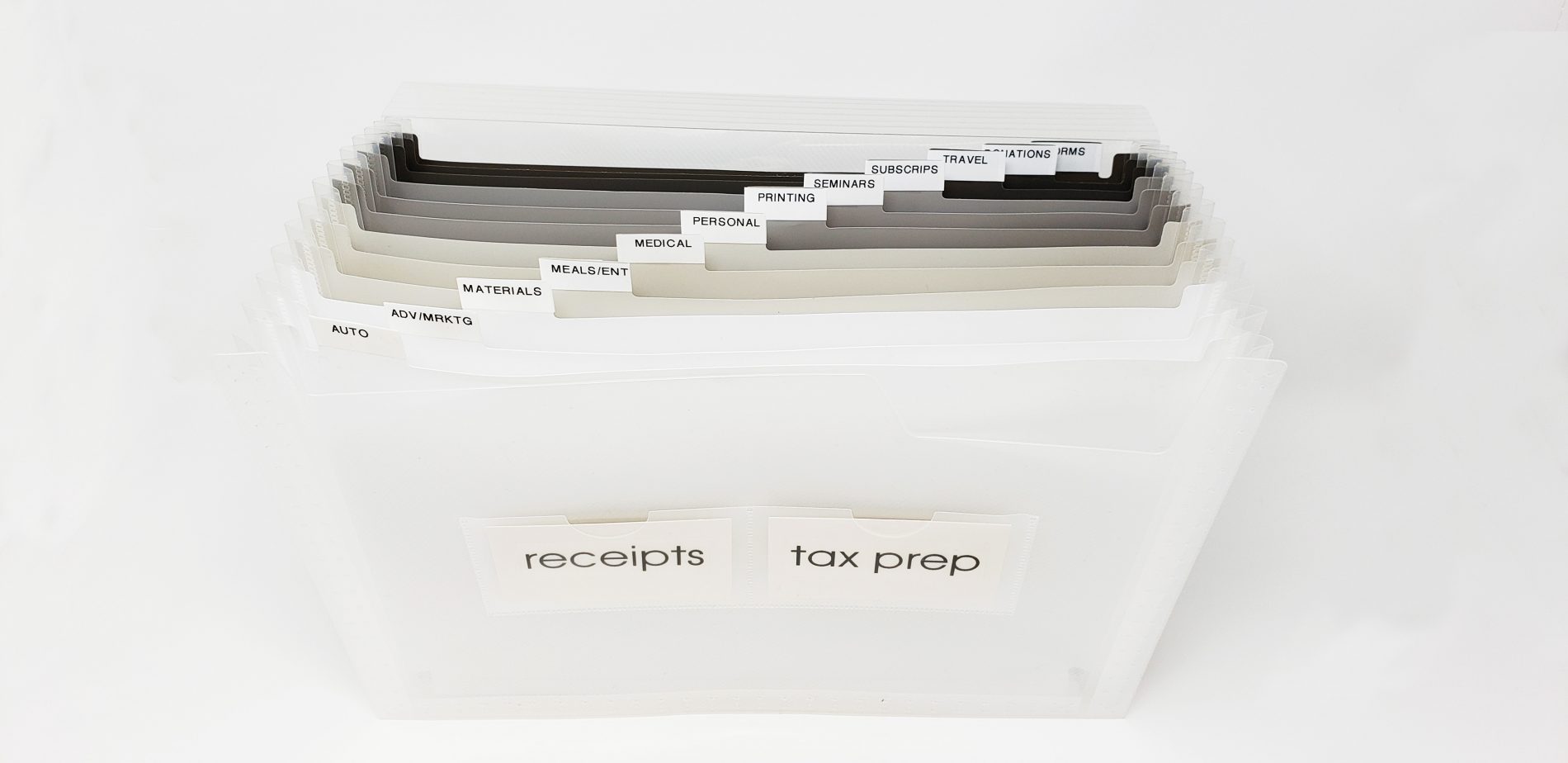 If you haven't kept your receipts in one place this year, shrug it off and start now. It's never too late to implement a little organization. Once you've created your files and gathered receipts, set aside an hour, put on some 90s hits and have a filing party. Don't overstress the organization—start with simply putting receipts in the correct category.
Donate and deduct –

Did you count your GoodWill donations? If you did a big closet clean out this year and donated the items to a tax deductible charity, you're in for a good write-off.

We recommend It's Deductible.

It's a free segment of Turbo Tax where you input the items you donated and it shows you the dollar value. You then download your spreadsheet and give it to your accountant along with your donation receipts. Now wasn't that easy?
Once you have organized your documents and formally filed your taxes, breathe a sigh of relief—but just a small one! There is still a little work to be done:
Make digital copies

– Whether you file taxes online or like to do it the old-fashioned way, it never hurts to have a digital copy of your records and receipts—filed digitally in an organized fashion, of course. Download year-end statements or financial reports from your online accounts and scan documents, receipts, and forms. We love our

Fujitsu Scan Snap Scanner

. It's a bit pricey but will win you over in a jiffy. It even has an option to scan with searchable text! No more desperately ripping through your receipt collection; just type in a keyword and let the computer play detective.
Track finances

– To stay ahead of your finances, consider using a financial tracking app like

Mint

. Websites like Mint allow you to view, categorize, budget, and search all your financial accounts, debts, and investments in one place. It is a great way to see your entire financial picture and even provides a tax perk if you keep up-to-date on categorizing your expenses. When it comes tax time, use the export-to-Excel option for the expense categories you need and send the sparkling document off to your tax pro.
Now—right now—take the first step. Pull out your calendar and set a date for doing your taxes! With a few new tips and tools this year, we hope you feel empowered to finally check tax filing off of your list and to stay organized for an even smoother experience next year.  
Still feeling overwhelmed by the stack of papers overflowing in your office, drawers, file folders, even kitchen cabinets? Sometimes more than tips and tricks are required in order to stay on top of mounting papers and files. At Organized by Ellis, we specialize in organizing complicated clutter—even towers of paper and mounds of digital files. Contact us today for a free consult!