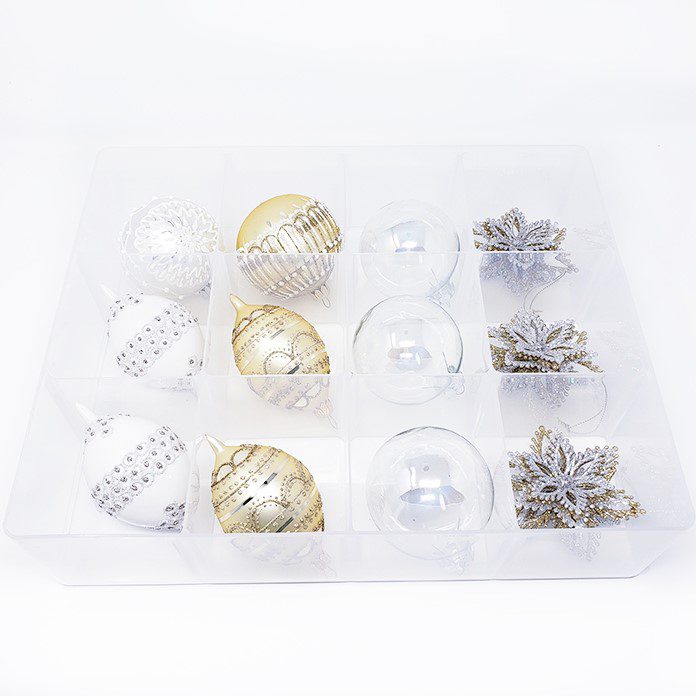 20 Dec

How to Store your Holiday Decor

Post-holiday time means big time clean up and that's why we're talking about how to store your holiday decor. After the gifts have been opened and the guests have gone home, putting away holiday decor can be a messy endeavor but with a little planning you can keep your precious holiday tchotchkes, safe, protected and easy to use, year after year.

This blog is written in partnership with The Container Store, but all thoughts and opinions are my own.  We love these products from The Container Store that make organizing your holiday decor a breeze.

We're pick up where we left off last month. You may remember our project 6 Steps to Hosting Made Simple, where we showed you how to organized china and silver. We are continuing by tackling the same storage closet in the garage, because that's where the holiday decor is stored. Since we've organized the china and silver and moved it inside the house, we are ready to organize the holiday decorations.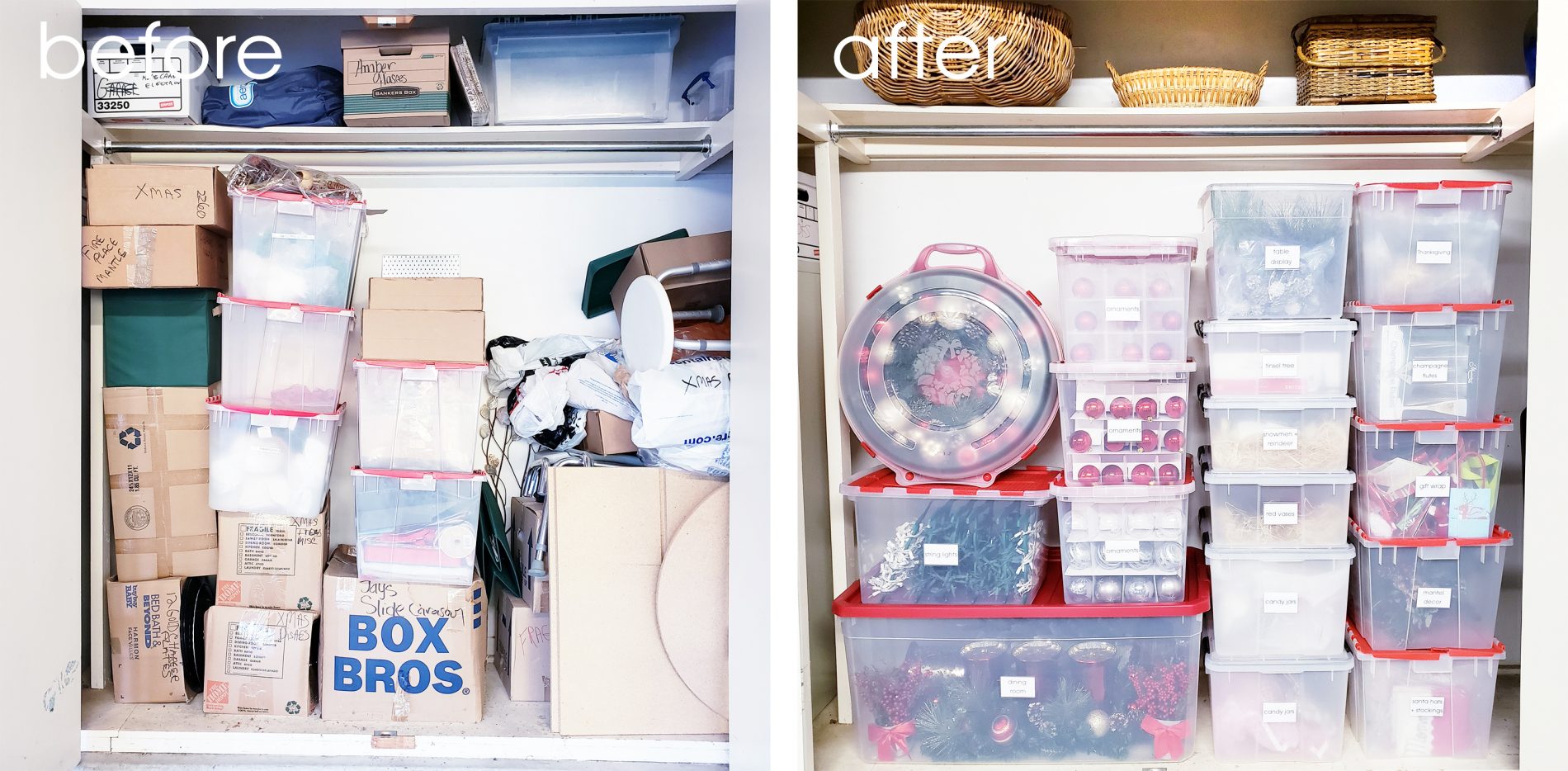 PRO TIP: this method of step by step, organizing one category at a time is a great way to get any space organized in no time!
As you use your holiday items and décor take note of things that are broken or that didn't make it out this year. Check those boxes. Is it the second or third year an item has stayed in the garage? Perhaps it's time to let it go and donate. Items that no longer serve you and your family can move on. Let 'em go!  As you wrap up holiday festivities and pack up the party season edit and prune as you go. The result will be boxes of only the precious items you love.
Now that you've selected the most cherished items to store, ask yourself…how do I use these items? Do you decorate in phases? Create scenes in different areas of your home? Delegate the decorating? Group and pack your decor the way you use it. Realizing how you use your items will help you decide how to pack your decorations. All lights together, tree ornaments together, mantle decorations together. See what we mean?
Choose the Correct Containers
With all the choices available, selecting the right container can feel overwhelming. And holiday decor is one category that really benefits from the correct container. Our container criteria…easy to take in and out, easy to open, easy to see the contents, stackable, and weather resistant.
In our closet we store lights, Christmas tree ornaments, table and mantle decor and entertaining pieces.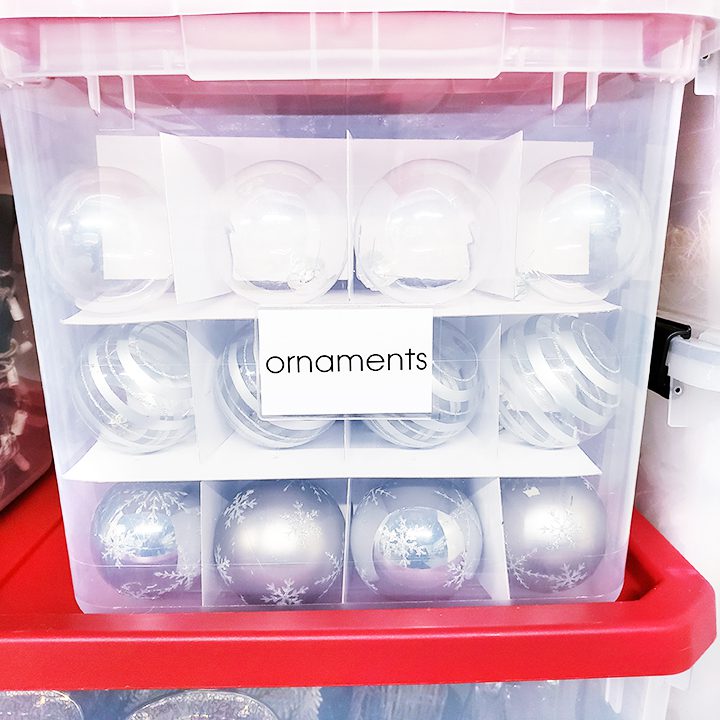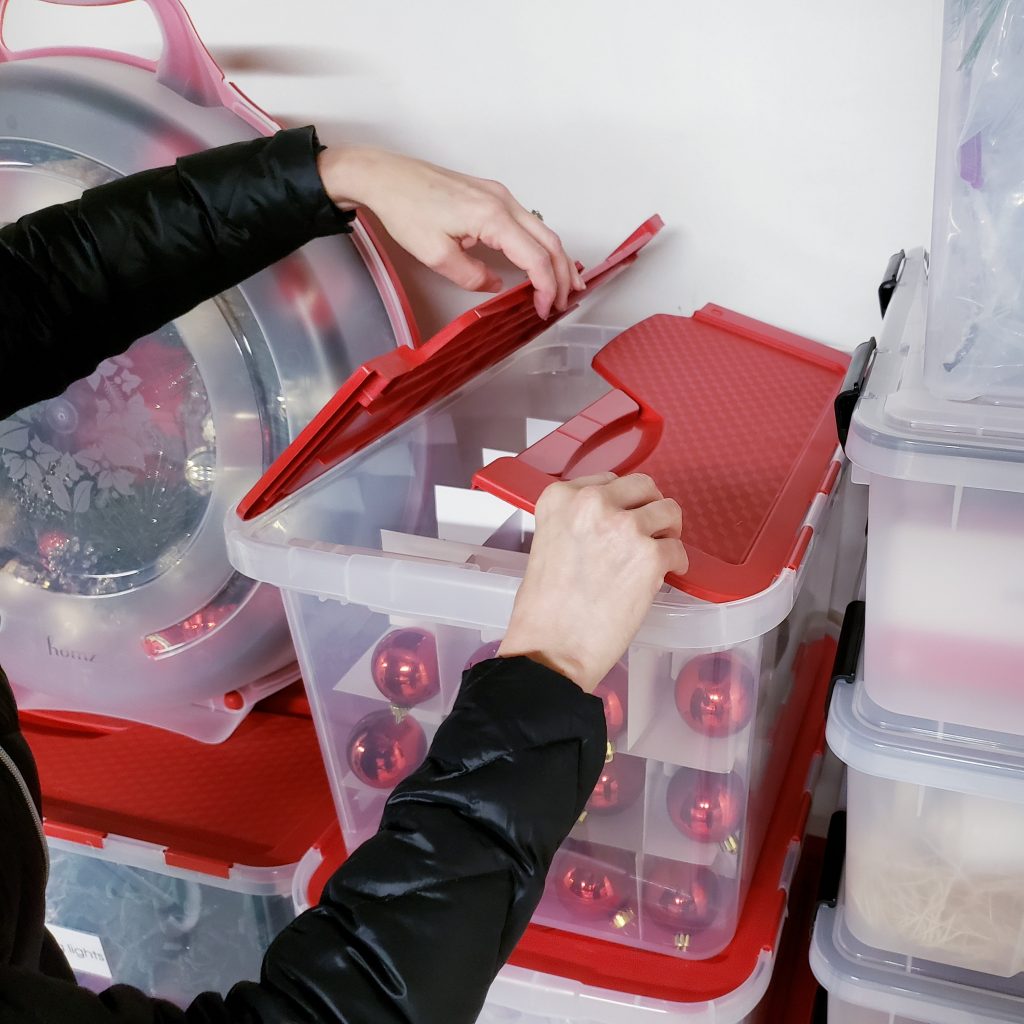 The handy hinged lid makes it easy to access the ornaments while decorating your Christmas tree. The containers come with cardboard inserts that assemble in 3 layers and keep the ornaments both protected and visible.
For really precious family heirloom ornaments we like multi-compartment ornament storage trays.
The Right Container for the Right Job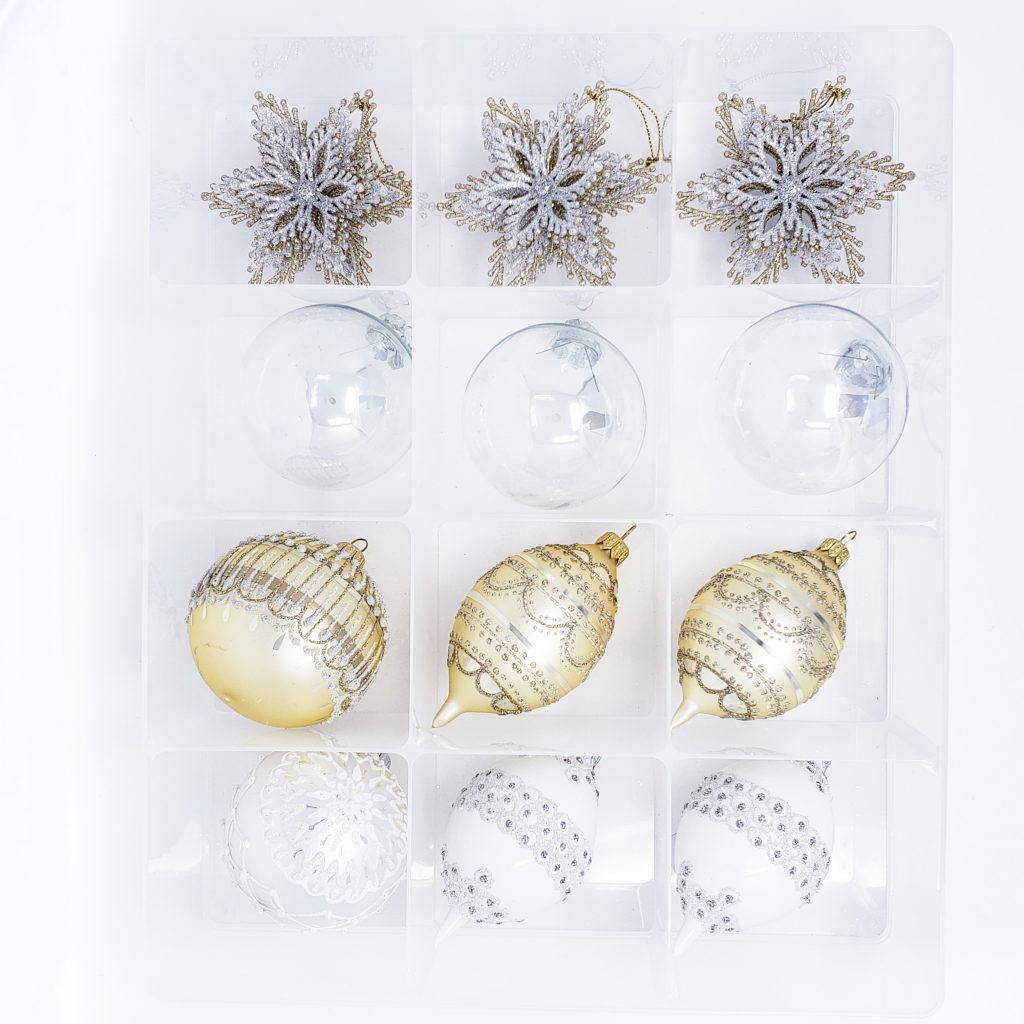 These inserts stack perfectly inside the red hinged boxes and the trays are divided to keep the ornaments protected from clanging together.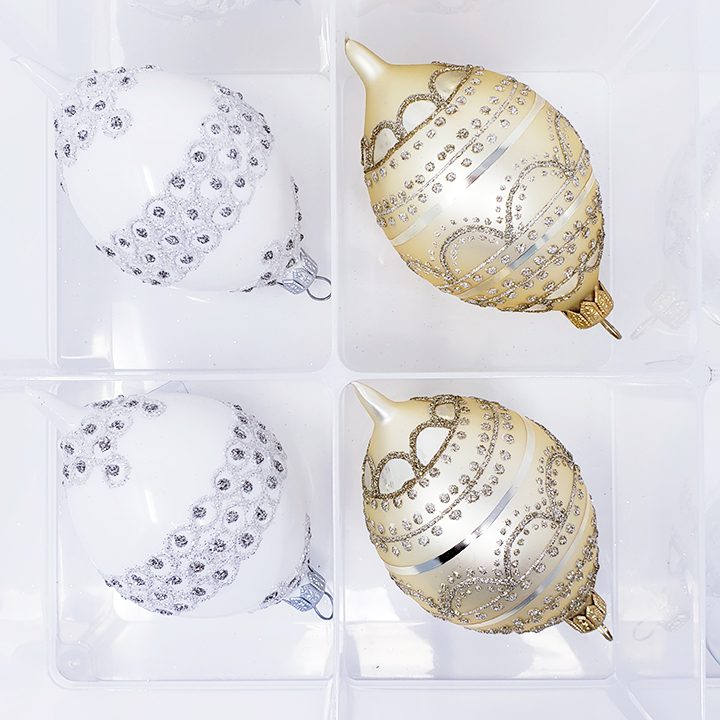 Welcome to worry free storage at its best!
For ultimate convenience the trays easily lift in and out of the box. When you decorate you can carry the tray right over to the tree.
Similar to the red hinged bins are the 12 gal. Red Flip-Lid Light Wrap Storage Box. These boxes come with a cord storage insert that you use to wrap the lights, cords or even tinsel around and place them upright in the box.
These babies will solve even the worst cord rats' nest! Untangled and ready to use.
For figurines and delicate decor we love a combo of weathertight totes and Natural Excelsior fibers.  Natural fibers are the protective filler you see so often in gift baskets but think it does a great job of protecting precious tchotchkes.
These totes match our container criteria…easy to take in and out, easy to open, easy to see the contents, stackable, and weather resistant. Check, check, check and check!
Ever try to put a round peg in a square hole? Well, that's what storing a wreath feels like. We don't usually recommend containers that are specific to items because they can be used for only one thing, but in this case the wreath box is the perfect choice. Wreaths get crushed easily so instead of trying to fit it in a square container, or in a trash bag, we opted for this elegant solution.
Ready to carry to the front door!
Of course, the finishing touch is labeling. Why would you label clear containers? Because when the decorations are being used and the contents are adorning your house, the container are empty. Labels help you and your family know where to put things back! The key to staying organized!