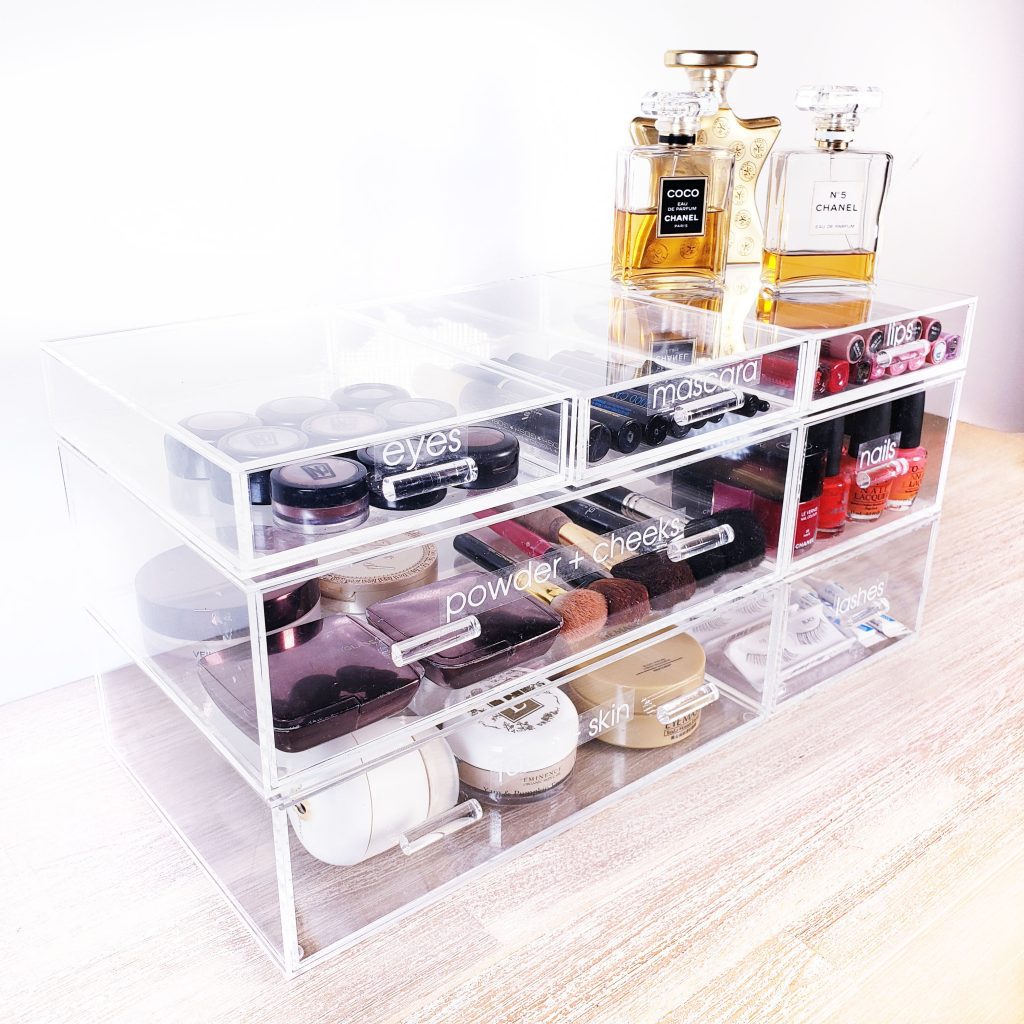 13 Feb

How to Organize your Makeup

This post is about how to organize your makeup in collaboration with The Container Store, but all thoughts and opinions are my own and boy was it a fun one!

Organized spaces make life just a little bit better and your makeup drawer is no different. We worked with our client, celebrity photographer, Brooke Mason to create organized makeup solutions that are insanely pretty and easy to maintain.

We believe getting ready to go out is an opportunity for fun and that's why we want to share how to organize your makeup. Two ways to go here…create a little party for yourself and put on your favorite jams, sip a beverage and go glam!  OR the other way to go is to spend your time fishing through a sea of products just to find your favorite red lipstick.  If the later sounds like you, listen up. We've got the solution.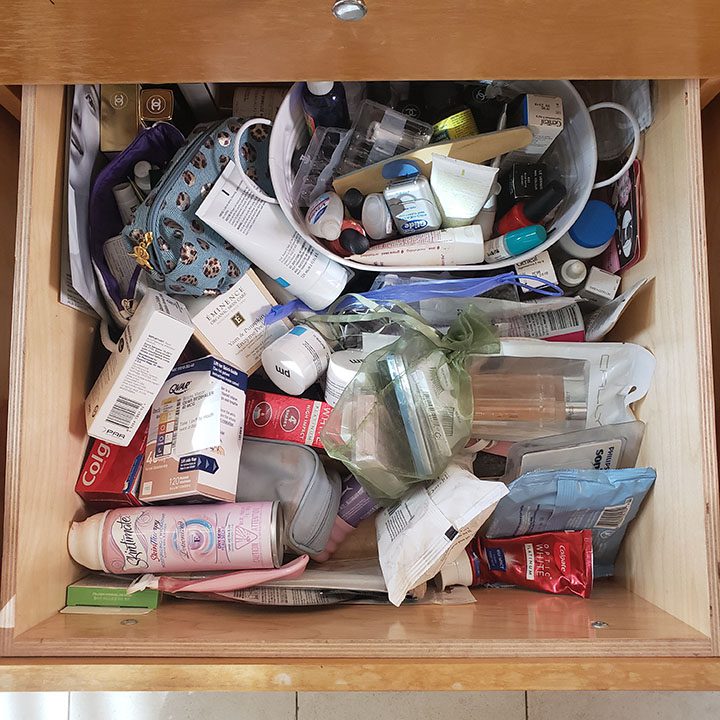 Brooke is a busy entrepreneur and we really understand that! She has her daily makeup and skin routine products but she also attends glamorous business and celebrity events. Her products need to be easy to find and easy put back. The key is to create a system that will hold up under those rushed – get ready moments.
Survey the Makeup Situation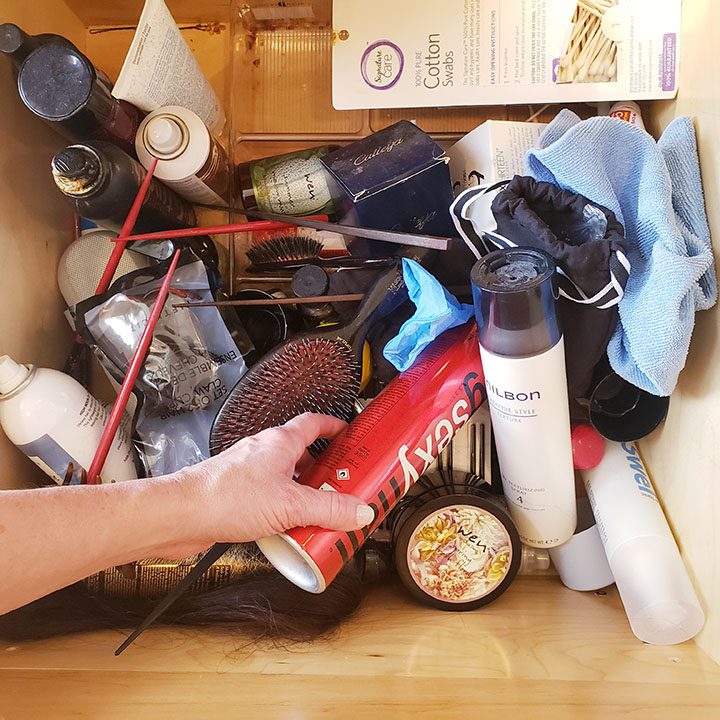 Does your space look like a beauty salad…eye shadow, lashes and tweezers all tossed together? No judgement, without a system, the mess happens quickly.
Go on a Makeup Treasure Hunt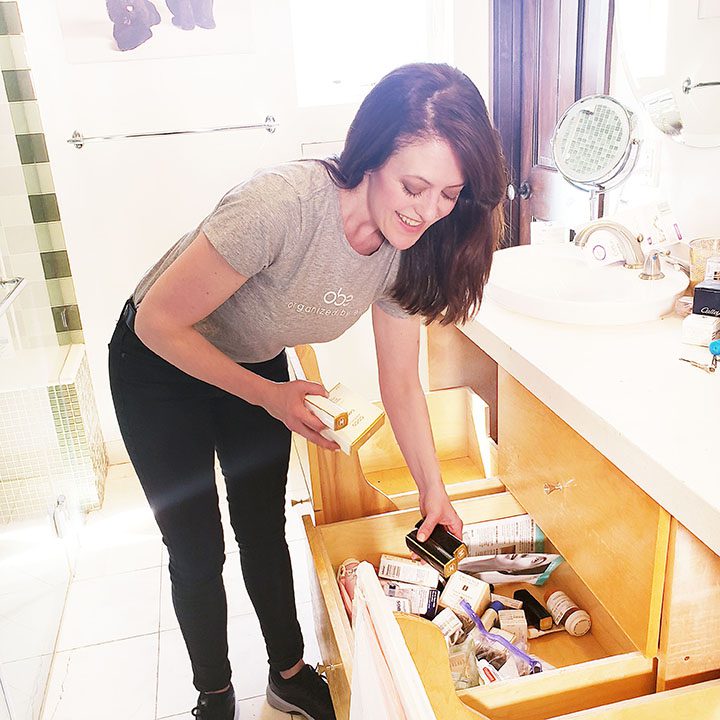 First thing gather all your makeup and products. Open drawers, shelves, bags and remember to look in the purse you used yesterday. Collect all your makeup and products in one place.
Go through each item and decide if you're going to keep it, toss it or give it away. This is the hard part for most of our clients. Because cosmetics are pricey and the idea of tossing something you spent a small fortune on is the worst! But you've already spent the money. You can't get it back so, if you have a drawer of too trendy makeup, this is the time to let it go. If you don't wear it and it doesn't fit your current look, life and routine. Be brave and let it go.
PRO TIP:  Set up a folding table or use your bed as a surface to sort as you organize your makeup. Protect the surface with a towel or sheet. You don't want makeup smears on your bed. Use cups or mugs to sort product and little bits.
Again, toss items you don't use. Ask yourself, would I buy this today?
If you're letting go of unopened product, perhaps give it to a friend who may like it or donate it. Find a local charity that accepts products. You'll make someone very happy!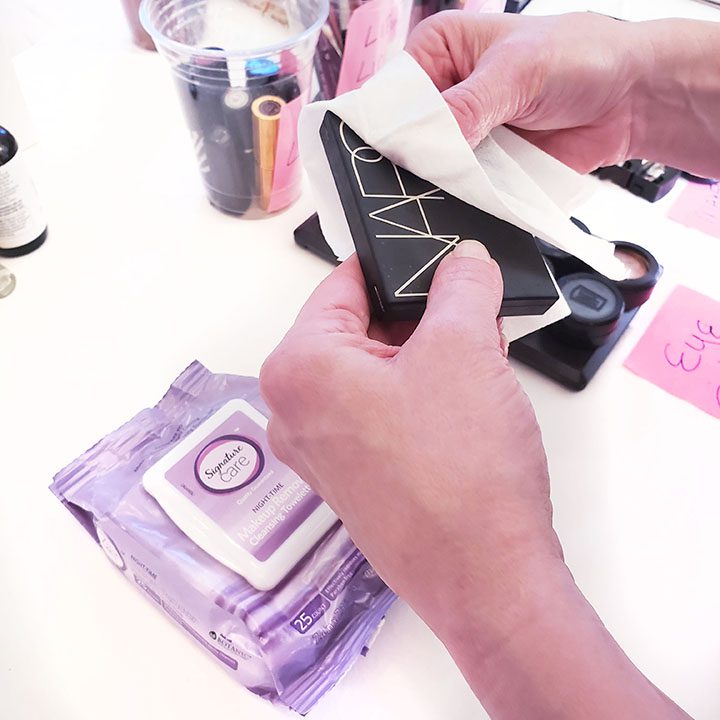 Give everything a good wipe down. Makeup remover wipes are great to remove smudges on the packing.
Group your Products by Use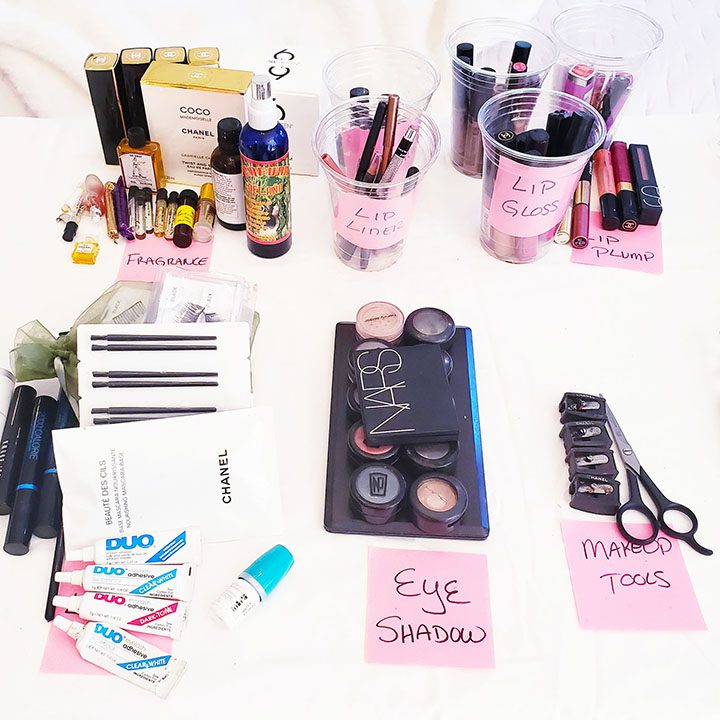 Group your products by how you use them. Create a group of daily products – things you use every day and then your sometime products – things you use once a month. Then your special event and spa products.
Now it's fun time and Luxe Acrylic Modular Makeup System is everything! Truly everything we love about organizing in one set of products. These containers are beautiful, modular, clear, and solve a multitude of organizing challenges.
What is your space like? If you store your makeup in a bathroom drawer or vanity, you may have enough room to stand products up. Think about using vertical space where you can and stand up makeup brushes and pencils
Brooke has these deep drawers. So we had a lot of vertical space to use. We also know that she is moving into a new studio and her space is slightly different, but these organizers work great in both spaces.
We used Luxe Acrylic Cosmetic & Brush Organizer for her foundation, eye shadows and fragrance sticks. This container works nicely in a drawer but also on top of a counter or vanity. The Luxe line is really easy to clean too, just a quick wipe and smudges are gone!
Luxe Large Acrylic Makeup Organizer
This acrylic organizer has slots that are the right size for just about any product. Lipstick, pencils and liners stand up easily and of course because it's crystal clear you can easily see all your products, which is the key to a tidy makeup drawer.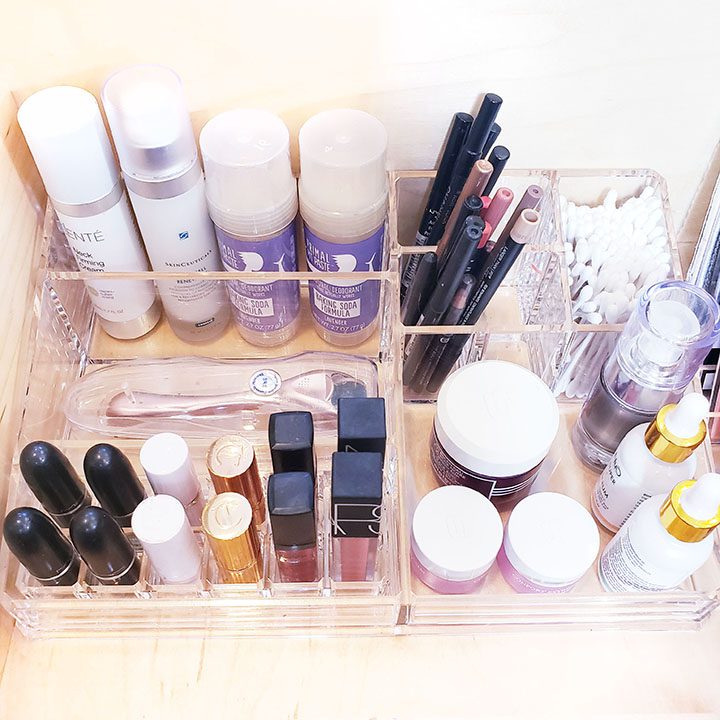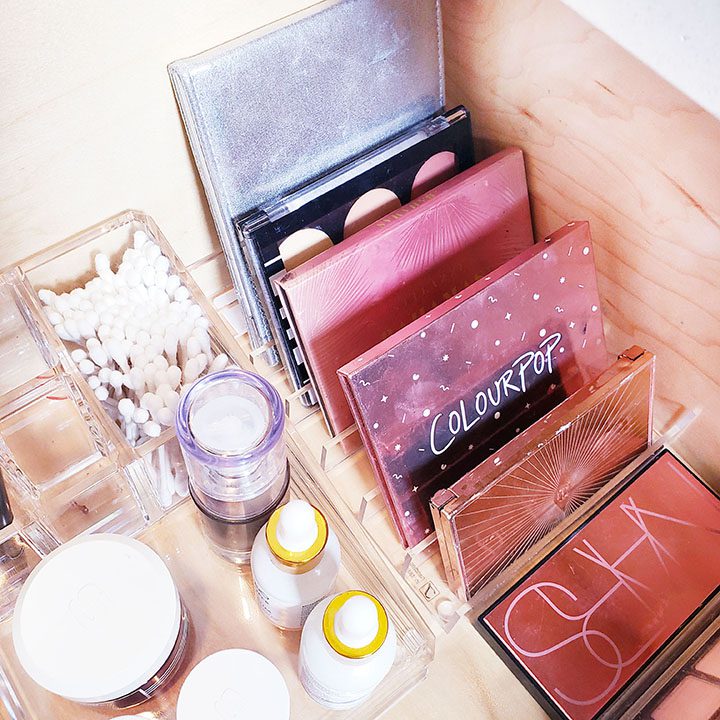 To organize palettes, we used the Palette insert. You can use these inside a drawer or to top of your vanity. Palettes of eye shadow file neatly in a row so you can take out the one you want to use and put it right back in its place, and they won't fall all over your makeup drawer. They really keep drawers contained!
Mix and Match to Create a Customized Vanity
Brooke had some products she wanted to store top of the dresser. These modular stackable pieces are gorgeous and keep any space looking glam and tidy! Following our rule…all the makeup is easy to see, easy to access and easy to use.
We selected mix and match, modular pieces to create the perfect set up for Brookes makeup. The Luxe Acrylic Large Modular Drawer is a great size for larger items like powders and face cream because they are tall enough to hold jars. Plus the large drawers are a great base to build your set of drawers
Once you have your base, stack up the drawers in any configuration. This system is flexible and customizable.
We selected Medium Short Luxe Acrylic Modular Drawer Clear for shadows, mascara and lip glosses.
Brooke's morning routine is so much easier! Whether you're getting ready for your day or out on the town, organizing your makeup and products will make the experience a true delight.
Brooke's morning routine is so much easier! Whether you're getting ready for your day or out on the town, organizing your makeup and products will make the experience a true delight.
Of course, the finishing touch is labeling. Labels make it easy to know where to put things back! The key to staying organized!